The Podcast Marketplace Continues to Grow
The program began with a presentation from the IAB on the state of podcasting. During this presentation, the IAB released its annual report titled "U.S. Podcast Advertising Revenue Study," which provides total ad revenue for 2022 along with projected ad revenue through 2025.
In 2022, podcast ad revenue grew by 26% to reach a total of $1.825 billion. Podcasting's annual growth percentage of 26% is more than double that of total Internet ad revenue, which increased by 11% in the same time period. Furthermore, it outpaced social media (4% increase), paid search (8%), display (12%), digital video (19%) and digital audio (21%) in 2022.
Looking ahead, the IAB is projecting a 25% increase in 2023 and for podcasting to surpass $2 billion in annual ad revenue. By the end of 2025, the IAB expects ad revenue to reach $3.98 billion, more than double what it was in 2022.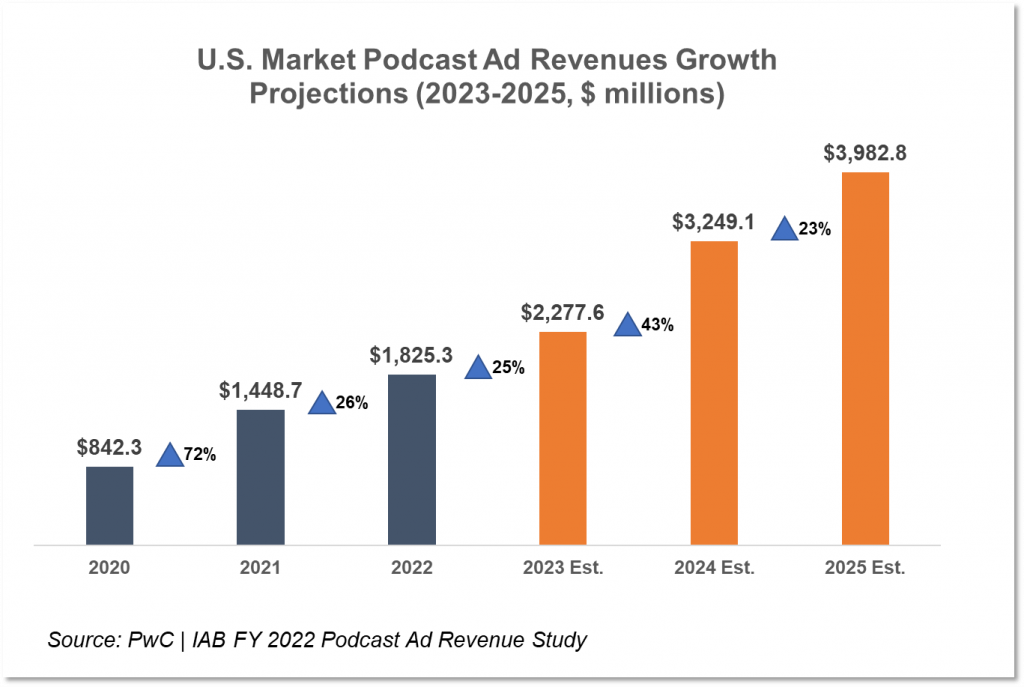 From a content perspective, News was the clear top ad revenue content genre in 2021 representing 19% of all revenue. That percentage decreased significantly down to just 12% in 2022. As the United States moved farther away from the presidential election cycle, the interest in news content decreased. In response, listeners gravitated towards more lifestyle-focused content. Sports (increased from 11% in 2021 to 15% in 22%), Society & Culture (12% to 14%), and Comedy (13% to 14%) all saw their share of revenue increase in 2022. In fact, Sports is now the No. 1 ad revenue category in podcasting when just a year prior it was fourth.
AI Powered Brand Safety
In recent years, podcasting has addressed many of the industry's questions. It has developed a diverse content slate providing opportunities for a diverse set of voices, while following suit with other digital channels in providing traditional targeting parameters including demo, geo and behavioral segments. Publishers have willingly partnered with third-party attribution companies, allowing advertisers to see their return on investment in real time. As podcasting has grown, publishers have been looking to aggregate inventory and sell run of network offerings to advertisers to further maximize revenue.
The deterrent from marketers is a lack of control of where ads will run. As podcasting is not governed by FCC guidelines like terrestrial radio, brand safety has been a major concern. If an advertiser runs a targeted ad buy across a network of hundreds of podcasts, what safeguards are in place to ensure that an advertisement doesn't appear in controversial or detrimental content to a brand?
One of the most anticipated panels of the IAB Podcast Upfront featured ArtsAI, an AI focused attribution, tracking and optimization company, and Barometer, an AI company focused on brand suitability in audio. The two companies revealed that they are partnering in order to provide advertisers more control over where their ads will run. They also announced the launch of AB Daily, which combines ArtsAI's pixel technology and Barometer's Cloud Technology, allowing for show- and episode-specific suitability. In short, the partnership will provide real-time monitoring of where an advertiser's ads are running. Barometer's technology monitors every line of spoken word in a podcast and measures against a brand's specific safety protocols. If an ad runs in what is deemed unsafe content by an advertiser's parameters, the ad is flagged allowing for the advertiser to modify the campaign.
The two companies announced that they are also working on a product which will allow for real-time brand safety in podcast advertising. In this future offering, an ArtsAI VAST Tag will serve ad creative only if a podcast is deemed brand safe as determined by Barometer's Brand Safety Scoring mechanism. If Barometer deems the podcast unsafe, the ArtsAI tag will serve either an ad from another advertiser or a PSA ad. This new technology will provide marketers with the most advanced safety mechanism currently in the podcast marketplace and the necessary guardrails to prevent ads from running in controversial content. The VAST Tag offering will be available for both direct and programmatic ad buys.
Mental Health in Focus
In recent years, mental health has taken on a much larger conversation in public discourse. Happiness is vital whether it's at the workplace, at home, or within the individual. Podcasting is a space where larger conversations can occur, and people can both educate themselves and hear stories from others who have struggled and are fighting to overcome these complexities.
iHeartMedia, the top-ranked publisher in Podtrac's Monthly Podcast Industry Ranking, is at the forefront in podcasting on this important topic with a slate of podcasts including:
Happiness Lab w/ Dr. Laurie Santos: The Yale professor hosts a course at the prestigious university on the science of happiness. She guides listeners through the science and shares inspiration that is aimed at changing the way people think about happiness.
On Purpose w/ Jay Shetty: A long running personal development-focused podcast. Recent episodes include Methods to Increase Work Productivity, How to Change Your Social Media Habits and How to Transform a Negative Mindset.
Therapy for Black Girls: A podcast hosted by psychologist Dr. Joy Harden Bradford focused on mental health and personal development. Recent episode topics include how does trauma effect the brain, dating and relationships in the digital age, and healing through sound meditation and breathwork.
Unbreakable w/ Jay Glazer: NFL Insider Jay Glazer shares his own personal story on mental health living with anxiety and depression. Glazer discusses mental health with celebrities, athletes and coaches. Glazer recently interviewed Olympic Gold Medalist ski racer Lindsey Vonn in what was a candid discussion about her own struggles with depression.
Other publishers mentioned content in this category as well, but the podcast that received the biggest reaction from marketers was Cumulus Media's The Shawn Ryan Show. Ryan, a former U.S. Navy Seal and CIA Contractor, talked about his own struggles with mental health. This podcast focuses on the ups and downs along with the wins and losses endured by people from all walks of life.
Betterhelp, the mental health platform that provides online services to consumers, has become one of the largest advertisers in podcasting. Comedian and TV personality Conan O'Brien, host of the award winning Conan O'Brien Needs a Friend podcast, has a long-time partnership with Betterhelp and uses his platform to discuss the importance of mental health.
Podcasts are a great source of both entertainment and education, but just as importantly can provide a comforting community when people need it most.
Outlook
Podcasting continues to be one of the fastest growing digital media channels. With the IAB reporting a 26% year-over-year ad revenue increase in 2022, the medium is now poised to exceed $2 billion in 2023 and approach $4 billion in 2025. With technology enhancements to improve brand safety and an increase in programmatic offerings, there is anticipation that this will garner additional interest in podcasting from large-scale advertisers.
This column was written by Jason Endres, Associate Director, National Audio, Active US.
Posted at MediaVillage through the Thought Leadership self-publishing platform.
Click the social buttons to share this content with your friends and colleagues.
The opinions and points of view expressed in this content are exclusively the views of the author and/or subject(s) and do not necessarily represent the views of MediaVillage.com/MyersBizNet, Inc. management or associated writers.